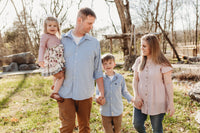 About my little shop:
The perfect shirts to dress your littles - all shirts are customized with monograms or names!
Hi, there! My name is Kayla. I have always been a creative person with a love for education. Before having my 2 littles, I was an elementary school teacher and obtained a Master's degree in Education.

After having my little boy, I loved buying monogrammed and personalized items for my baby boy. I found myself searching all of the time for special holiday shirts for my little one. My little boy's coming home outfit, Halloween costume, and first birthday shirt all came from handmade shops.

Right before my little boy turned two, I decided to be a full time stay-at-home mom. I loved teaching my students at school, but wished I could have more time with my little one at home. As a way to have a creative outlet while staying at home, and to make an extra income, I decided to start The Cotton Blossom Shop. At first, I was making personalized shirts for my little boy and my nieces. As time went on, I started doing a lot of themed birthday shirts.

I run a small shop that is always growing and expanding. Your purchases truly make my day and show me your support. I won't stop until I make every shirt perfect. Have any new designs that you want to see? I am just a message away!